​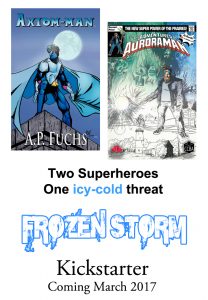 Superheroes! Ice monsters! Parallel universes, and more!
That's right. Axiom-man is teaming up with Auroraman in an all-new novel called 
AXIOM-MAN/AURORAMAN: FROZEN STORM
.
The tagline?
Two superheroes. One icy threat.
The premise:
Presently, Axiom-man's world is on the verge of descending into total darkness at the hands of Redsaw. His personal life is also a mess and he's barely managing to keep life as he knows it from collapsing, both for himself and for the planet. The last thing he needs is to suddenly be sucked into a parallel universe to tackle a new foe. But, perhaps, with Auroraman's help, the two can work together to find the Cobalt Crusader a way home before chaos reigns supreme in both their universes.
The Kickstarter just launched yesterday and in less than 24 hours has already raised a whopping $1800+
Don't miss out on killer tier packages and super treats.
Check out this superpowered project 
right here
.
Thank you in advance for your support.Thank you in advance for your support.